Rob Phillips – Owner | Estimator | Project Manager
Rob is a San Diego native and 1982 graduate of Point Loma College earning a Bachelor's Degree in Physical Education and General Sciences. He has coached many local high schools in football and baseball, played professional baseball, and has been a local middle school and high school teacher.
Rob's painting career began back in the 1970s working for his grandfather on his numerous real-estate properties. Drawing on that experience and the need to supplement his teaching salary during the summer months, Rob began an enterprising painting business. Before long Rob's business, which based itself solely on "word of mouth" was gaining steady success. His integrity, quality work, and customer satisfaction had created for him more success than he had anticipated. In 1990, he took the leap and created Phillips Painting. Inc. Since its inception, Phillips Painting, Inc. has become one of the largest painting businesses in San Diego.
Rob is proud of the fact that he has been blessed with a wonderful marriage to his high school sweetheart, Norma, since 1983. Together they have three wonderful children: Tristan, Torin and Taylor Jo, and enjoy a wonderful family life. He has particularly enjoyed his past community service as a Head Varsity Coach at Grossmont High School, which under his leadership of thirteen years, winning a record of six CIF titles! After retirement in 2009, Rob was inducted into the prestigious Hall of Champions as a "Coaching Legend". These days he enjoys fly-fishing in Montana, spending time with his family and his dogs, and gardening.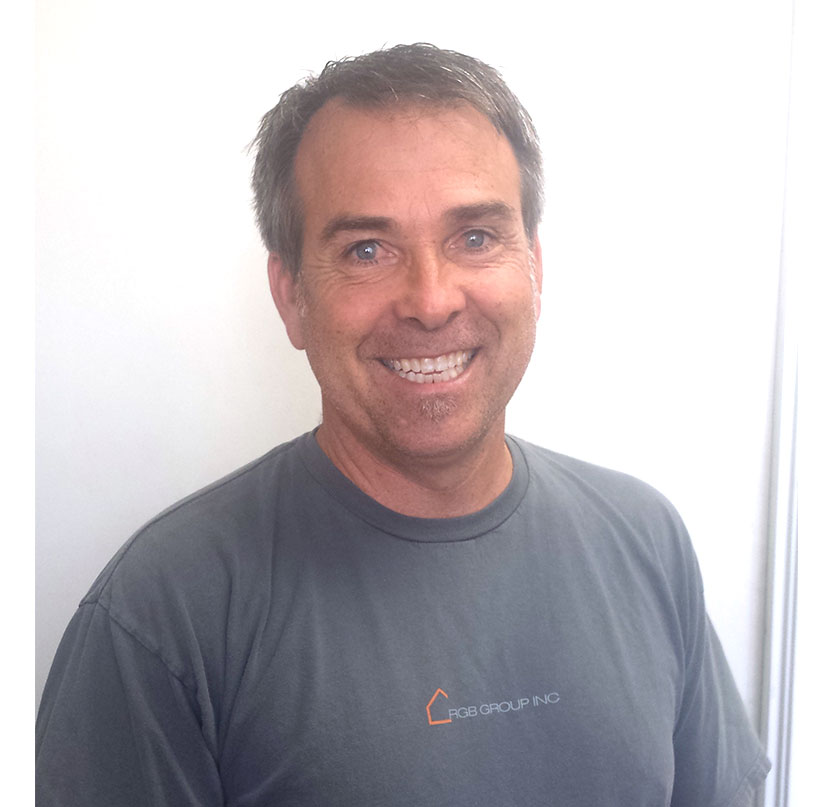 Jeff Dirkes  Estimator | Project Manager
Jeff has been a valuable employee since Phillips Painting's inception.  As a student athlete at Valhalla High School, it was there that he first met "Coach" Rob Phillips.  Jeff's character proved to impress Rob, and after graduating, Jeff began painting with Rob to supplement his budding musical career.  For a period, Jeff attended college at Cal State San Luis Obispo and then relocated to Minnesota-all the while still staying employed in the painting industry.
With over twenty years of valuable painting experience, Jeff represents fully the quality, service and integrity that Phillips Painting, Inc. stands for.  As Phillips Painting's FIRST employee, Jeff has established a reputation in achieving customer satisfaction on both residential and commercial projects.  Phillips Painting Inc. can credit much of its success to having him on our team.
Jeff enjoys a rich and active family life with his wife Angie and two boys, Lewis and Owen.  He enjoys serving the East County community by coaching for his children's Little League, soccer and football teams.  Golf, fishing and music are some of his favorite leisure activities.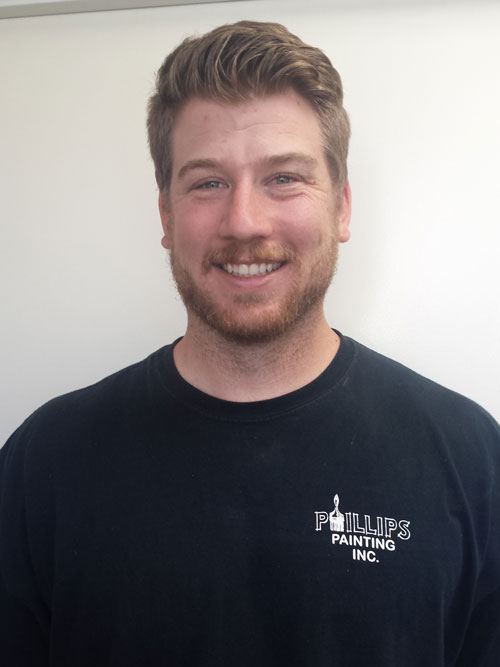 Tristan Phillips Estimator | Project Manager | Marketing Supervisor
Tristan is a graduate of Chapman University with a Business Administration degree.  His education, natural abilities and enthusiasm have brought to Phillips Painting, Inc. a constant supply of fresh and up to date business expertise.  In response to new and stricter laws by the EPA in 2010, Tristan became a certified contractor for lead removal and new requirements for higher safety levels on jobs.  In addition, his hard work ethic and customer service relations have been valuable in making Phillips Painting's quality of service even better.
As a student athlete at Grossmont High School, Tristan too, was fortunate to be coached by Rob, his father.  One of his most special memories is winning the CIF title for Grossmont Baseball with his dad, making the last out of the game and winning "Player of the Game"! His baseball career continued with success as he played for Chapman University, gaining many school records, and going to the College World Series all four years.  In 2010 he married Becky, whom he fell in love with at Chapman University.  They enjoy traveling, wine tasting and spending time with their Bernese Mountain Dog named Whiskey.  Following in his father's footsteps, Tristan is now a coaching assistant for the Varsity Baseball program at Granite Hills High School.
Becky Phillips  Office Manager
Becky officially joined the family in 2010, marrying Tristan.  It has been Phillips Painting's increased blessing to have her expertise in the office.  Becky comes to us fully loaded with "capability-plus"!  A graduate of Chapman University with a Bachelor's Degree in Political Science, she adds much organization and skill in running all the various business details.  With her calm, cool and collected manner she has brought to Phillips Painting a greater level of efficiency.
Becky is multi-talented and excels in all that she does.  Having a very inquisitive mind, she seems to constantly be acquiring more and more education and knowledge- for the sake of learning.  She is our human "Google" and the newest treasure to Phillips Painting, Inc.  Among other things she is a wonderful cook and a talented floral designer.  We haven't found anything that Becky doesn't do well!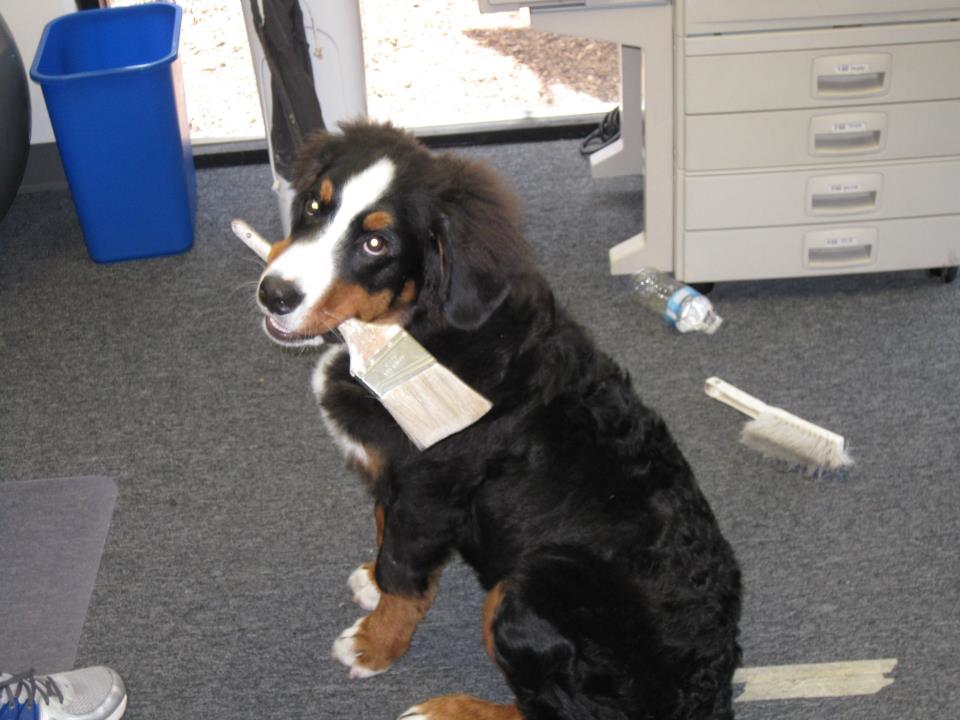 Whiskey
Mascot/ Greeter

Whiskey is a Bernese Mountain Dog who was born on April 2, 2011.  Since being adopted by Tristan and Becky in June, he has spent every business day at the office, bringing much love and joy to everyone he greets.
Whiskey enjoys long walks, chewing on paintbrushes and playing with other dogs, but his favorite thing is just being near people.  He is always ready to give you hugs and kisses and to receive petting and treats.  He takes his job as a "greeter" very seriously, and to date he has not met anyone that can resist his charm.